A new era of memes; the deadmemes resurrection
CONTRACT ADDRESS
0xa93bdf3495c57198ddee6377d614a92fa01b5209
Memes have become a staple of internet culture, bringing humor and entertainment to people of all ages. But what about the classic memes that have been forgotten and left to die? Dead Memes was created by bob the builder on the 20th of march 2018 and its our honour to bring back these beloved memes from the dead and revive them for a new generation. Our team at Dead Memes is passionate about memes and firmly believes in their celebration, creation and investment by the community. We understand that meme tokens have unfortunately gained notoriety for scams However, we are here to showcase to the world that our focus is on community, passion, and success. Join us in our mission to unite meme lovers around the world and give these classics a new lease on life.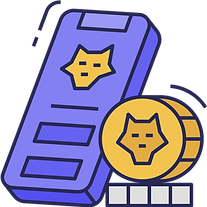 Create a Wallet
Download metamask or your wallet of choice from the app store or google play store for free. Desktop users, download the google chrome extension by going to metamask.io.
Get Some ETH
Have ETH in your wallet to switch to $DEADMEMES. If you don't have any ETH, you can buy directly on metamask, transfer from another wallet, or buy on another exchange and send it to your wallet.
Go to Uniswap
Connect to Uniswap. Go to app.uniswap.org in google chrome or on the browser inside your Metamask app. Connect your wallet. Paste the $DEADMEME token address into Uniswap, select $DEADMEMES (DEA), and confirm. When Metamask prompts you for a wallet signature and sign.
Switch ETH for $DEADMEMES
Switch ETH for $DEADMEMES, We don't need to worry about buying with a specific slippage, although you may need to use slippage during times of market volatility, HODL and remember to take profits along the way.
Marketing, CEX Listings & Community rewards
Phase 1: Development
Phase 2: Community Growth
Phase 3: Enhancement
A new era of memes the deadmeme resurrections.
Contract deployment

Website

White Paper 

Marketing

Community partnerships

Telegram Official Channel
Discord Channel
Cex Listings

Meme competition, Winners will receive rewards in Ethereum 

Extend locked liquidity   

10k+ holders
Community takeover

AMAs

Monthly Staking Rewards

NFTS

P2P Gaming/Live Battles 

100k+ holders
Contact - deadmemesdev@gmail.com
© 2023 by Dead Memes Token. All rights reserved!